After spending the better part of my morning trying to find a web-based alternative for Google Reader I have finally settled on Feedly.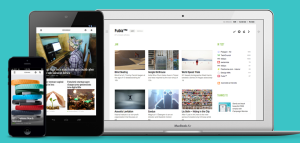 Feedly is available for use on the web as well as on tablet devices. If you get in before Google Reader shuts down on July 1 then Feedly allows you to automatically sync with your Google Reader account, making the transition relatively easy. Actually the developers over at Feedly have been planning for Google Reader to shut down for a while now and have a plan already in place.
There are a few reasons that I decided to go with Feedly as my replacement for Google Reader. They include:
Availability on the Web, iOS devices and Android devices

Integration with other services
One of the main things that I do with Google Reader is use it to save and share information with other services. Feedly integrates in with many other services that I use including:
Twitter

Facebook
Google+
Evernote
Pinterest
LinkedIn
Buffer
The main one that is missing that I wish was there was integration with IFTTT (If This Then That). Because it doesn't integrate in with that I will need to modify my workflow a bit, but I should be able to get around it.
So if you are looking for an alternative to Google Reader I would recommend checking out Feedly for yourself.
Some other RSS readers that I looked at, but that fell short of my needs were:
RebelMouse

Netvibes
FeedDemon (desktop app)
FeedReader