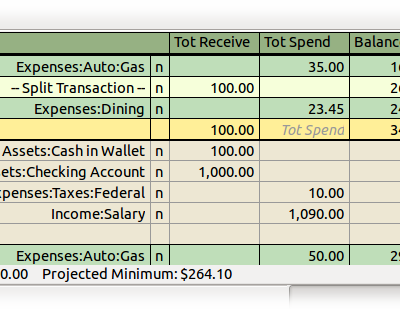 Although there are quite a few different personal finance software packages available for a Microsoft Windows PC, I personally use an old version of Microsoft Money 2000, I have not seen many packages available for personal finance management on the Mac or on Linux.
Today however I found GnuCash on the web. It describes itself as "GnuCash is personal and small-business financial-accounting software, freely licensed under the GNU GPL and available for GNU/Linux, *BSD, Solaris and Mac OSX."
GnuCash seems to be a fairly feature rich personal finance application. It includes:
Checkbook-Style Register
A fairly robust (from what I can tell) Financial Reporting and Graphing Module
Different Account Types to help monitor cash flow
Support for multiple currencies
Stock and Mutual Fund Portfolios
Small Business Accounting Module, which includes Customer and Vendor tracking, Invoicing and Bill Payments, and Tax and Billing Terms
Intuit Quicken QIF import
Support for the Open Financial Exchange (OFX) protocal
Statement Reconciliation
Localization
Financial Transaction Search Feature
Support for Online Stock and Mutual Fund Quotes
Cheque Printing
Scheduled Transactions
and quite a bit more
Although I won't be using this myself I will be suggesting it to my friends at work who are running Mac OSX as an option for their own Free Personal Finance Software.
Technorati Tags: personal finance, mac, linux, free